Take my button, link up and share some of your favourite pair of Hooker Heels.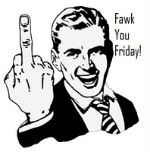 Its also Fawk You Friday! So, go and link up with Boobies and Christy and let it all oot! Give these girls a whirl, they're Absa-fucking-Lootly brilliant.


Fuck you to the Pneumonia replaps that whacked me this week. Thats two weeks at home! That's the longest time I've ever been at home for an illness (even the times I was in hospital for shit). In conclusion, I HATE being ill, I hate feeling crap and I'm glad I'm on the mend. Back to work on Monday and I'm actually glad! Oh I know I'm such a fucking loser.
Fuck you to the truck loads of snot that I have mopped up over the past two weeks. I have gone through 354.7 tissues and my nose is red and cracked and my lips look like urban street maps - totally smoochless!
Have a BRILLIANT weekend, Plonkers. Don't forget to enter my competition - Caption my Freaky Photo #11. and as promised here is a wee video montage from our Hot Air Ballooning experience.