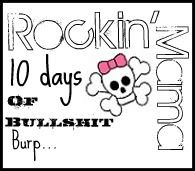 ★
Rockin' Mama★
's

10 Days of Bullshit Challenge
is going really well and rockin' my balls off. I am actually enjoy it - we're now of Day 7 and the topic today is:
What is the difference between love and lust?

Lust is written in red lipstick
Check out the other topics here and go link up with Destiny and see everyone else's posts.