A long weekend here in SA - well for me anyway - the girls' schools were closed yesterday and Thursday was Youth Day. Four days at home and my Birthday on Sunday. How brilliant is that?
Take my Friday's Shoegasm button and join me in posting your favourite pair of kick-arse heels.



Gotta slip a pair of The Master's shoes into my birthday week's Shoegasm *drool*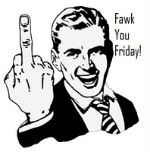 Its also Fawk You Friday! So, go and link up with Boobies and Christy and tell us who fucked you off and pissed on yer battery.
Fuck you to postal service to lost a few of my letters in the mail. Don't they know how precious those awesome Daft Scots Lass Temp tattoos are?

Fuck you to this persistant flu that has been trying to invade my body. I've had earache and a sore throat the entire week. Perhaps its time to go to the doctor.
This dude is fuckin' SOOPA talented!! ENJOY