Today I'm taking my hubby away for the night. We're going to Magaliesburg to stay at a pretty lodge for the night and the girls are going to sleep over at my sister's house. I have a great surprise adventure planned for Saturday morning and I'll post about it when I get back because its still a secret.

Take my Friday's Shoegasm button and join me in posting your favourite pair of hooker heels.
I don't know who does them or where to find them, but I LOVE these!
SnazzyHeels.com $200
*Sigh* I will probably NEVER own a pair of Christian Louboutins but that doesn't stop me looking, dreaming and drooling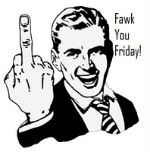 Its also Fawk You Friday! So, go and link up with Boobies and Christy and let it all oot! Give these girls a whirl, they're brilliant.
Fuck you to The Beatles who wrote Let it Be. That song makes me cry EVERY fucking time!

Fuck you to the disgusting Stevia pills that I'm using in my tea instead of brown sugar. It DOESN'T taste the same, assbags. Its blah! But I have lost 3kg since I started using it.

Fuck You to Natalie Portman who looked absa lootly stunning in Black Swan, which I watched over the weekend. I was gob-smacked by her beauty, elegance and acting. Yeah, the first half was a bit slow but the second half was whacky and creepy (just the way I like it). How can a woman who lost all her fucking body fat for this film, be so breath-taking? Normally, I hate waifs (perhaps I'm secretly jealous - of course I am). Ballerinas always have a magical place in my heart. They just take my breath away.

A huge Fuck You to the woman from ABSA Customer Services in Durban, who just phoned to crap on me because some random guy came in to her branch telling her that he has my old phone number. He says keeps getting text messages from the bank. Hey! I changed my details with the bank, Bitch - who then is sending him text messages? Me or You? Sort it out, asswipe. She didn't bank on getting a foul-mouthed Scots Lass on the other end of the phone who gave her "what for".