Take my button, leave a comment that you're linking up so I can come and visit your favourite pair of heels!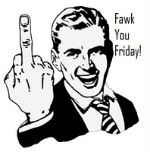 Fuck you to Nandos for the first crappy flame-grilled chicken burger that I've EVER had from you guys. I've been a dedicated fan of Nandos for 18 years and this is the first time that I have had food from you guys that was rubbish. I was shocked and disappointed beyond belief - but I still LOVE you! Nandos fucking rocks my knickers off!

Fuck you my office that is so damn cold. My nipples are sore from the constant pointing.

Fuck you to the shortage of petrol. I had to drive around to four different petrol stations at lunch time on Thursday to fill up my car.
Fuck you to Caburys. This week I bought the girls a strip of Caramello Bears and not one of the bears had the "Tum full of Toffee" (as advertised) they were all made of solid Cadburys milk chocolate. Hey who's complaining? But I did miss the yummy Toffee Tummy centre. Sssssh, I know I'm not meant to be eating chocolate.
Flash Fiction Friday 55 is hosted by G-Man and I haven't taken part in a while but I decided to give it another go this week.
Is there any answer?
Knocking at the old red door
Staring through the mucky window
To be met by a blank void
Isn't it pointless pounding against a locked door
with no one behind it to open up
Have a BRILLIANT weekend, Plonkers. Don't forget to enter my competition - Caption my Freaky Photo #13.