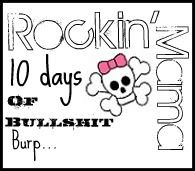 Second last day of the 10 Days of Bullshit Challenge over at
★
Rockin' Mama★
and I've just loved this challenge!!!
Check out the other topics
here
and go link up with Rockin' Mama.
T

oday's topic is :
If your life was made into a movie what would the title be and who would you cast to play you?
Julianne Moore
The movie would be called A Daft Scots Lass in Heels and my part would be played by Julianne Moore of course - my Hollywood Double (I fucking wish) except she would have a huge bahookie.
She'd make my life loads more glamourous that I could ever do.
I would be podgered by the handsome, Gerard Butler, my husband. My girls would be played by the young, pretty and adorable Fanning sisters, Dakota and Elle.
My mum and dad would be played by the gorgeous and serene, Helen Mirren and the incredibly funny and crass, Billy Connolly.
My older, blonde sister would be played by a young cheeky Barbara Windsor...
Gerard Butler cast as My Husband
Helen Mirren cast as My Mum
Billy Connolly cast as My Dad
Barbara Windsor cast as My Sister