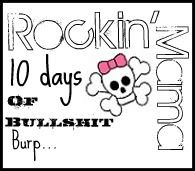 ★
Rockin' Mama★
and wee me are doing the

10 Days of Bullshit Challenge.
This is D

ay 6 and today's topicis : Who or what inspires you.
Check out the other topics here and go link up with Rockin' Mama.
I have many awesome people that have entered and exited my life, at different stages, who have inspired me. Different people have inspired me and continue to inspire me for different reasons.
I don't believe just one person can give you all you need to be completely inspired in every area of life. We all have diverse talents.
Talented musicians and dancers inspire me to appreciate the beauty of their art and the powerful emotions they exude. Comedians inspire me to laugh and not take life so seriously. My family inspire me to appreciate the power of love. My friends inspire me to live life every day for adventure and experiences. My husband inspires me to be brave and to be a better person than I ever thought I'd be. My children inspire me to stay silly and love playing.
However, one person sticks in my mind and the ironic thing is, she doesn't even know that she made such an impact in my life. She was an ordinary girl who taught me extraordinary lessons. She taught me the power of choice. She taught me to have a voice. She taught me sacrifice. She taught me endurance and survival. She taught me that being vulnerable was not a weakness. She taught me that surrendering things did not make you defencelss but made you strong.
Even though I haven't seen her for almost 20 years and she now resides in a different country, she contiues to remind me that life is not about what people or circumstances throw at you, that its about how you choose to react to whatever comes your way.
Thank you, Circe.