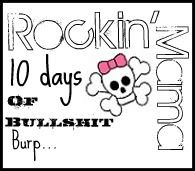 ★
Rockin' Mama★
and a bunch of other fucking awesome bloggers are doing the

10 Days of Bullshit Challenge.

Day 2's topic is Your first experience with alcohol.
Check out the Days topics here and go link up.
My first experience with alcohol? I actually don't remember that. Mum always had wine in the house and we were always offered a glass, well I don't think we were offered, we just took, so I don't really remember abusing alcohol until my late teens. However, I do remember my first experience with the Doobie Crunchies. Yeah, the good old marujana...
It think it was my sister's 21st so I was probably 18 and all the usual headbangers and their bitches were invited. I arrived late for the party for some reason and my boyfriend and I made a bee line for the kitchen to pour our cheap plonk wine into presentable glasses to make us feel suitably grown up.
It was then that I noticed the freshly baked crunchies on a pretty plate on the kitchen counter. I fucking love crunchies! I have never been able to resist them.
I popped one in my mouth and we went to join the others. After girating my body for a bit and almost dislocating my neck to Slayer, I went back to the kitchen to get a wine refill. Its thirsty work, headbanging and avoiding the mosh pit.
I then spotted the plate of crunchies that was freshly filled up. I popped another one in my mouth and put another one in my pocket. Soon, I was going back quite regularly to the kitchen, not to refill my wine glass, but to munch down on the yummy crunchies.
About an hour later, I was puzzled as to how I could be THIS pissed on two glasses of wine?! While I was pondering that, I got the giggles. I then go the munchies. Then I got the giggles again. Vicious circle! I don't remember much after giggling and munching like a maniac but apartently I had a really great time, dancing the night away.
My sister only told me years later that the crunches were "green loaded" and contained quite a lot of weed. No wonder I had such a bad hangover the next day.
Check out Day 1